Poultrygeist (Hardcover)
Back to top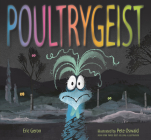 $16.99

Usually Ships in 1-5 Days
Description
---
From a debut picture-book author and a #1 New York Times best-selling illustrator, a wry take on "Why did the chicken cross the road?" that gives a whole new meaning to "the Other Side." Cock-a-doodle-BOO!

It's punny. It's spooky. It's a meta picture book that puts a fresh spin on an old joke and elevates chicken comedy to ghastly new levels. A little spring chicken crosses the road but quickly gets flattened under a semitruck. The barnyard beasts who've gone before break the news: now that Chicken's fried—dispatched to the Other Side—Chicken has a job, an unwanted job, as a noisy troublemaking ghost. This fowl may be weak in the beak, but Chicken knows that scaring people isn't nice. There is such a thing as a friendly ghost, after all—isn't there? Loaded with laughs and shivers, this Halloween-ready treat features ghoulishly funny art by the illustrator of the #1 New York Times best-selling Bad Seed series. Let the haunting begin!

No chickens were harmed in the making of this book.
About the Author
---
Eric Geron earned a creative writing degree from the University of Miami and spent many years as a children's book editor, acquiring numerous New York Times bestsellers. He is eggstatic to present Poultrygeist as his debut picture book. Originally from Summit, New Jersey, he now lives in Los Angeles, where he always looks both ways before crossing the road.

Pete Oswald is the author-illustrator of Hike and the illustrator of the New York Times bestsellers The Bad Seed and The Good Egg, both written by Jory John. He worked as a character designer and/or concept artist on the popular films Madagascar: Escape 2 Africa, Cloudy with a Chance of Meatballs, Hotel Transylvania, and ParaNorman. He was also the art director and production designer for The Angry Birds Movie. Pete Oswald lives in Santa Monica with his wife and three sons.
Praise For…
---
The chicken crosses the road…and arrives on the other side as a ghost. . . . Oswald's illustrations display masterful use of color, with bright, ghostly animals against a dark, often all-black background, the dialogue shown in colors that correspond to the speakers. These ghosts do become scary but not enough to completely terrorize readers. Oswald's skill is seen in full effect, as readers witness only the animal ghosts' reactions to the poultrygeist's scariest face, building suspense for the full reveal. This book is just right for kids easing into the slightly scary and macabre but who still want a safe and fun read.
—Kirkus Reviews (starred review)

Thanks to a passing semi, a chicken crossing the road definitely gets to the Other Side—but rejects the insistence of hovering deer, possum, and other fellow roadkill that it's payback time. . . Young audiences may have different views, though, and Oswald obliges by crafting cartoon images of spectral wildlife with staring, glaring eyes and shark-like teeth, and also making use of page turns to work dramatic "jump!"–worthy changes of size and expression.
—Booklist

An amusing concept and attendant wordplay ("Show a little pluck, Cluck!") by debut author Geron gets a big assist from Oswald's marvelous digital illustrations: intricate, iridescent textures; fluorescent colors; and lots of comic exaggeration evoke a spectral world that's also reassuringly silly.
—Publishers Weekly

[Geron] is serendipitously paired with artist and production designer Oswald. The dynamic duo absolutely know how to entertain, Geron with the clever, multilayered phrases ("cock-a-doodle-BOO!"; "ghosts of a feather haunt together!"), Oswald with the colorful and expressive, digitally created ghouls and goblins ready to engage and captivate from the OTHER SIDE. The result proves supernaturally spooktacular. . . cleverly captivating.
—Shelf Awareness

Against the digital illustrations' midnight-dark backgrounds, the brightly colored poltergeists' silliness should prevent young readers from feeling too "weak in the beak". . . . It's hard to feel chicken when a book is this clucking hilarious.
—The Horn Book