Knife of Dreams: Book Eleven of 'The Wheel of Time' (CD-Audio)
Back to top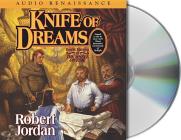 Other Books in Series
This is book number 11 in the Wheel of Time series.
Description
---
The Wheel of Time is now an original series on Prime Video, starring Rosamund Pike as Moiraine!

In Knife of Dreams, the eleventh novel in Robert Jordan's #1 New York Times bestselling epic fantasy series, The Wheel of Time®, Tarmon Gai'don, the Last Battle, is upon Rand al'Thor—and now the Dragon Reborn must confront the Dark One as humanity's only hope.

The dead are walking, men die impossible deaths, and it seems as though reality itself has become unstable…

Abandoning Rand's war against the Dark One, Perrin Aybara has made his own truce with the Seanchan in his obsessive quest to save his wife Faile from the Shaido and destroy their mutual enemies. To achieve victory, Perrin must render the Shaido Wise One channelers in Malden powerless. But even as he puts his desperate plan into action, Masema Dagar, the Prophet of the Dragon, moves against him.

Traveling with circus performers through Seanchan-controlled Altara, Mat Cauthon attempts to court Tuon, the Daughter of the Nine Moons, to complete their fateful prophesized marriage. Despite being surrounded by Seanchan seeking to kill her, Mat's intended leads him on a merry chase while he wages guerrilla warfare to protect her.

Knowing he cannot defeat the Dark One while at war with the Seanchan, Rand brokers for a truce with the Daughter of the Nine Moons. Unaware of Tuon's actual location, the Dragon Reborn walks into a trap set by the Forsaken Semirhage, who possesses knowledge about his powers that will either shatter or steel his resolve in the forthcoming conflict.

Since its debut in 1990, The Wheel of Time® by Robert Jordan has captivated millions of readers around the globe with its scope, originality, and compelling characters. The last six books in series were all instant #1 New York Times bestsellers, and The Eye of the World was named one of America's best-loved novels by PBS's The Great American Read.

The Wheel of Time®
New Spring: The Novel
#1 The Eye of the World
#2 The Great Hunt
#3 The Dragon Reborn
#4 The Shadow Rising
#5 The Fires of Heaven
#6 Lord of Chaos
#7 A Crown of Swords
#8 The Path of Daggers
#9 Winter's Heart
#10 Crossroads of Twilight
#11 Knife of Dreams

By Robert Jordan and Brandon Sanderson
#12 The Gathering Storm
#13 Towers of Midnight
#14 A Memory of Light

By Robert Jordan and Teresa Patterson
The World of Robert Jordan's The Wheel of Time

By Robert Jordan, Harriet McDougal, Alan Romanczuk, and Maria Simons
The Wheel of Time Companion

By Robert Jordan and Amy Romanczuk
Patterns of the Wheel: Coloring Art Based on Robert Jordan's The Wheel of Time
About the Author
---
ROBERT JORDAN (1948-2007) is best known for his internationally bestselling epic fantasy series The Wheel of Time®, which has sold over 40 million copies in North America and is currently being adapted for the screen. A native of Charleston, Jordan graduated from The Citadel, the Military College of South Carolina, with a degree in physics. He served two tours in Vietnam with the U.S. Army and received multiple decorations for his service.
Kate Reading
is the recipient of multiple
AudioFile
Earphones Awards and has been named by
AudioFile
magazine as a "Voice of the Century," as well as the Best Voice in Science Fiction & Fantasy in 2008 and 2009 and Best Voice in Biography & Culture in 2010. She has narrated works by such authors as Jane Austen, Robert Jordan, Edith Wharton, and Sophie Kinsella. Reading has performed at numerous theaters in Washington D.C. and received a Helen Hayes Award for her performance in
Aunt Dan and Lemon
.
AudioFile
magazine reports that, "With subtle control of characters and sense of pacing, Kate's performances are a consistent pleasure."
Michael Kramer has narrated over 100 audiobooks for many bestselling authors. He read all of Robert Jordan's epic Wheel of Time fantasy-adventure series as well as Brandon Sanderson's The Stormlight Archive series. He received AudioFile magazine's Earphones Award for the Kent Family series by John Jakes and for Alan Fulsom's The Day After Tomorrow. Known for his "spot-on character portraits and accents, and his resonant, well-tempered voice" (AudioFile), his work includes recording books for the Library of Congress's Talking Books program for the blind and physically handicapped.

Kramer also works as an actor in the Washington, D.C. area, where he lives with his wife, Jennifer Mendenhall (a.k.a. Kate Reading), and their two children. He has appeared as Lord Rivers in Richard III at The Shakespeare Theatre, Howie/Merlin in The Kennedy Center's production of The Light of Excalibur, Sam Riggs and Frederick Savage in Woody Allen's Central Park West/Riverside Drive, and Dr. Qari Shah in Tony Kushner's Homebody/Kabul at Theatre J.
Praise For…
---
"The eleventh installment in Robert Jordan's Wheel of Time series, Knife of Dreams, proves to be a fast-paced and entertaining listen...Kate Reading and Michael Kramer once again deliver fine performances." —SFFaudio

"It pairs a gripping dual narration by Kate Reading and Michael Kramer with the equally complex, involving story of walking dead, impossible deaths, and fractured reality. Knife of Dreams comes alive in audio and softens the complexity of the story line with high drama only audio can bring to life." —Library Bookwatch

"Michael Kramer [narrates] all the segments of the book told from the perspective of male characters, at times with regal elegance, at others with bitterness, anger, or passion, as the situation demands. Kate Reading is equally adept narrating the parts involving the feminine characters and elements." —AudioFile