I'm Stretched (Paperback)
Back to top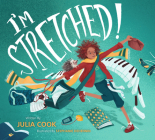 $10.95

Usually Ships in 1-5 Days
Description
---
In I'm Stretched , Julia Cook, award-winning children's book author and parenting expert, shows children just how overwhelming and powerful stress can be as it piles on the pressure and tries to steal our joy.
I'm stretched I have so much stuff to do.
Gotta be here...Gotta do that...Where did I put my shoe?
I feel like a rubber band that's stretched and about to break.
I have places to go and things to do and a great big project to make
Stress is a part of life, and in our fast-paced society, children often feel an unbelievable amount of pressure to balance family and friends, school and homework, and extracurricular activities. All of their responsibilities and expectations can make them feel stretched beyond their limits. I'm Stretched is a captivating story that speaks to children and adults alike, giving them tactical tools to manage their stress in a healthy and helpful way so they can face the pressures of life and find joy in being who they were meant to be.
About the Author
---
Julia Cook, M.S. is a national award-winning children's author, counselor, and parenting expert. She has presented in thousands of schools nationally and internationally, regularly speaks at education and counseling conferences, and has published children's books on a wide range of character and social development topics. The goal behind Cook's work is to actively involve young people in fun, memorable stories and teach them to become lifelong problem solvers. Inspiration for her books comes from working with children and carefully listening to counselors, parents, and teachers, in order to stay on top of needs in the classroom and at home. Cook has the innate ability to enter the worldview of a child through storybooks, giving children both the "what to say" and the "how to say it."After studying illustration at Saint Lukas in Ghent, Stephanie Dehennin became a freelance Art Director in the magazine world, but never stopped drawing and painting. The love for illustration was too strong to ignore, so she decided to dedicate the rest of her career to drawing and painting for children.